OBITUARY
JAMES ROBERT McCRACKEN Submitted by: Larry Payne (paynengineering@yahoo.com)

My Mother's Father (my Grandfather) was James Robert McCracken. He was the son of Elam Sulve McCracken, JR. If you will notice, in the Marion County Site, under the Elam G. W. McCracken, you will find that Elam G. W. had a son, Elam Sulve McCracken b. 1835, who had a son which is listed as 'unknown name' or somesuch. Well, I know his name, he was my GreatGrandfather, Elam Sulve McCracken, JUNIOR.
(Crowder is in Pittsburg Co, OK & Eufaula is in McIntosh Co, OK.) For text version of this obit click here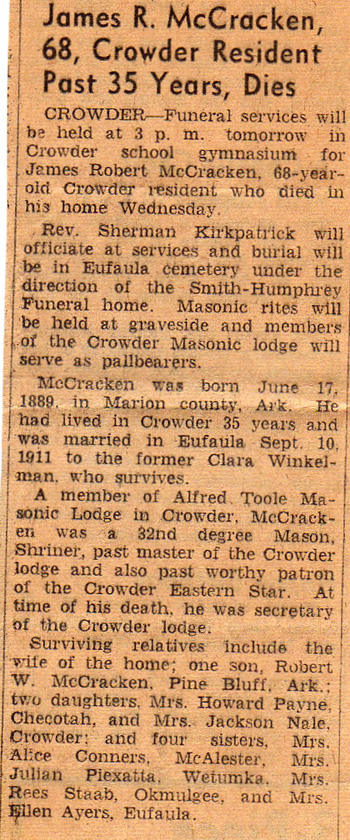 Return to Family Lines Index
Return to Marion Co Home Page
"This Page Was Last Updated Saturday, 20-Mar-2010 15:44:18 MDT"