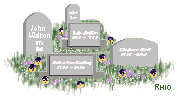 Marion County, AR - 2003 Obituaries

SURNAMES: A B C D E F G H I J K L M N O P Q R S T U V W X Y Z


To submit an Obituary or Death Notice:
Please post only surnames of those who lived in Marion County.

Send me your Obits and Death Notices. If you do not know where your information came from, for example an old newspaper clipping without the newspaper's name, or you don't have a full date, please let me know so that I can make a note. Please send me some kind of date otherwise the software will post the death date with the date you submitted your information. If you have only information from a tombstone please include the name and location of the graveyard.

To Register Obituaries on the List:

To send in an Obituary Please Select

Post An Obituary at the bottom of the page. Please remember to enter "OBIT" in the body of the message so I will know where to post your information. Thanks .
---
Return to Marion County, AR Home Page
View ...
Post ...
---

For questions about this page contact Karen L. (Hildebrand) Stevens at kstevens620@sbcglobal.net.


---
Query, Surname, and Researcher pages managed by CCHelper, an application written by Patty Lindsay.
---