Dottie Marie THOMPSON
Morning News of Northwest Arkansas dated Jan 23, 2003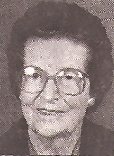 Springdale -- Dottie Marie Thompson, 81, of Springdale died Jan. 21, 2003, at Springdale. She was born Nov. 11, 1921, in Spring Valley to Simon and Alta Morris Roles. She was a homemaker and was a Baptist. She was a member of the Sunshine Club of Osage Mills. She was preceded in death by her husband, Ray Thompson, in 1993.

Survivors include one sister, Reba Jordan of Hindsville; four brothers, James Roles, Jack Roles, Roy Roles, all of Springdale, and Jesse Roles of Goodyear, Ariz.

Services will be at 1 p.m. Friday at Backstrom-Pyeatte Funeral Home in Springdale. Burial will be in Benton County Memorial Park in Rogers.

Visitation will be from 10 a.m. to 5 p.m. today at the funeral home. Pallbearers will be Shay Shreve, Tommy Grigg, Rusty Sudduth, Mike Roles, Jimmie Roles and Eugene Roles.