Phillip SANDBEK
Making Everlasting Memories: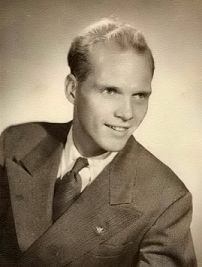 Morning News of Northwest Arkansas dated March 13, 2004

Edward J. SCHLICHTER,
85 of Bella Vista, AR, passed away August 15, 2007 in Lowell, AR. Mr. Schlichter was born February 18, 1922 in Beloit, Wisconsin to Julius and Agnes Rykwski Schlichter. He served in the U.S. Army and was a retired supervisor of the Fairbank-Moorse. He is survived by his daughters Diana Hough of Grand Rapids, MI. and Mary Pohlmann of Lowell, AR; one son Mark Schlichter of Ocala, FL; sister Margaret Olsen of Rock, IL; 8 grandchildren. Cremation arrangements are by Benton County Funeral Home, in Rogers, AR.

Jesse SMILIE

Morning News June 11, 2009


ROGERS — Jesse Smilie, 45, of Rogers died May 21, 2009. He was born in Pittsburg, Kan., to Melvin and Sandra Smilie. He was a painter. Survivors include two brothers, James R. Smilie of Inola, Okla., and Melvin K. Smilie of Pittsburg; two stepchildren. A private service will be held at a later date. Services are under the direction of Benton County Memorial Park Funeral Home in Rogers


James E. SMITH
Morning News June 12, 2009


AVOCA — James E. Smith, 68, of Avoca died June 11, 2009, at Northwest Medical Center-Bentonville. He was born May 2, 1941, in Bear Creek, Ala., to Oscar and Martha Kelly Smith. He worked in highway construction, helping build U.S. 71. He enjoyed fishing. Survivors include his wife, Maryann Smith; four sons, Richard Smith and wife Christine, and Anthony Smith, all of Avoca, Jonathan Mack of Rogers and David Smith of the home; three daughters, Denise Bohannon and husband Thomas of Highfill, Rebecca Cofer and husband Roy of Lowell, and Janie Cornelius Vega and husband Jose of Anderson, Mo.; a brother, Charlie Smith of Avoca; two sisters, Marvene Cooley of Bella Vista and Arlene Junior of Avoca; many grandchildren and great-grandchildren.

Visitation will be from 2 to 4 p.m. Sunday at Rollins Funeral Home in Rogers. Services will be at 10 a.m. Monday, at the Church of Jesus Christ of Latter-day Saints, Little Flock Ward, in Rogers.
* * * * *


From www.mem.com


James E. Smith, 68, of Avoca, died Thursday, June 11, 2009, at Northwest Medical Center in Bentonville. He was born May 2, 1941, in Bear Creek, Alabama, to the late Martha Kelly Smith and Oscar Smith. He worked in highway construction, helping build highway 71. He will be remembered as a hard worker that enjoyed fishing and spending time with his family. He is survived by his wife, Maryann Smith of the home; four sons, Richard Smith and wife Christine of Avoca, Anthony Smith of Avoca, Jonathan Mack of Rogers and David Smith of the home; three daughters, Denise Bohannon and husband Thomas of Highfill, Rebecca Cofer and husband Roy of Lowell, and Janie Cornelius Vega and husband Jose of Anderson, Missouri; one brother, Charlie Smith and wife Linda of Avoca; two sisters, Marvene Cooley of Bella Vista and Arlene Junior of Avoca. He is also survived by many grandchildren and great grandchildren.

Visitation will be held 2:00 – 4:00 p.m. Sunday, June 14, 2009, at Rollins Funeral Home in Rogers. Services will be held 10:00 a.m. Monday, June 15, 2009, at the Church of Jesus Christ of Latter Day Saints, Little Flock Ward, 2805 N. Dixieland Road, Rogers, Arkansas. Arrangements by Rollins Funeral Home of Rogers. Online condolences may be made at www.mem.com

Morning News of Northwest Arkansas dated May 19, 2004

John J. STEENCKEN
Morning News Sun Oct 2, 2005
BELLA VISTA -- John J. Steencken, 89, of Bella Vista died Oct. 1, 2005, at Bentonville Manor. He was born March 11, 1916, in Baltimore, Md., to Henry and Martha Mueller Steencken. He received his bachelor's degree in ceramic engineering from the University of Illinois in 1938 and played football for the university. He was also a tennis and bowling champion, demonstrating bowling on television in Kansas City in the 1950s. He lived in Maryland, Pennsylvania, Michigan and Missouri before moving to Bella Vista in 1973. His hobbies included golf and model railroading. He was a charter member of Bella Vista Community Church, where he sang in the choir. He was preceded in death by his wife, Eleanor, in 1997. Survivors include one daughter, Janet Sue Steencken of Springdale; a granddaughter; three great-grandchildren; and a niece, Arlene Farrell of Bella Vista.

Memorial services will be at 11 a.m. Thursday at the Bella Vista Community Church with Richard Lindman officiating. Burial will be in Bella Vista Cemetery. Arrangements are by Bella Vista Funeral Home. In lieu of flowers, memorials may be made to The Salvation Army, P.O. Box 969, Rogers, 72757.

Morning News of Northwest Arkansas dated June 23, 2004