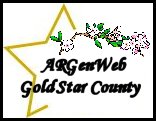 A Brief History of Polk County
from the 1871 History of Western Arkansas
On November 5, 1844, James K. Polk, of Tennessee, was elected President of the United States, and on the 30th of the same month Gov. Thomas S. DREW approved an act of the Arkansas Legislature cutting off a large part of Sevier County and erecting it into a county named after the President-elect. It is one of the western tier of counties; bounded on the north by Scott county; on the east by Montgomery; on the south by Howard and Sevier, and on the west by the State of Oklahoma. It has an area of 846 square miles and an average elevation of 1,300 feet, drained by the Cossitot and Ouachita rivers, both of which rise in the county.
The act creating the county fixed the temporary county seat at the house of John PIRTLE, where there was a post office called Panther. The permanent county seat was located near the southwest corner of Township 2 south, Range 30 west, and was named Dallas, for the Vice President of the United States. Subsequently it was removed to a site a short distance north and the name was changed to Mena.
Polk is divided into seventeen townships, viz: Big Fork, Center, Cedar, Cove, Eagle, Eagle Gap, Faulkner, Freedom, Fulton, Gap Springs, Mill Creek, Mountain, Ouachita, Ozark, Potter, Rich Mountain and White. A large part of the county is in the Arkansas National Forest.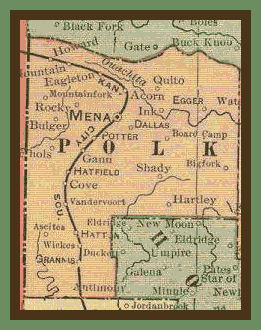 Neighboring Counties

Scott, Montgomery, Pike, Howard, Sevier, McCurtain Co., OK, LeFlore Co., OK
Welcome to Polk County. My name is Bobbi Dunn, and I am the coordinator for Polk County. Please note, that I do not live in Polk county, or even Arkansas, so I may not be able to help you with your specific research. But, I have done genealogy for several years, and might be able to help you find where to look or help you figure out what you might need to do to find the information you are looking for. I would love to add any information that you have regarding this county so please email me with anything you would like added. MAKE SURE TO PUT POLK COUNTY IN THE SUBJECT LINE SO YOUR EMAIL IS NOT DELETED AS SPAM.
Also, please note that I just took over as coordinator on this county November of 2008. It was also recently moved to this new server. If you find broken links, please let me know as soon as possible so I can correct them. To speed up correction, please make sure to give me the url of the page, along with the link that is broken. Thank you very much.
Appreciation to Jerry and Linnie Howell,
previous County Coordinators for all their work
obtaining and uploading information to this website!
Thanks to the Polk County Genealogy Society
for Sharing Genealogical Information!

Last updated February 5, 2012