Proud member of . . .

On November 1, 1833, the U.S. Congress passed an act which created Carroll County, Arkansas, from the western part of Izard County, effective on December 25, 1833. Carrollton was established as the original county seat in January, 1834. The county was named after Charles Carroll, the last surviving signer of the Declaration of Independence.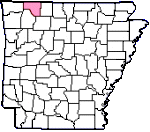 Carroll County initially was very large, comprising most of what is today Boone, Newton, and Carroll Counties, along with a small area that is now in northeastern Pope County. Its area was reduced considerably by the establishment of Newton County in 1842. In 1867, Carroll County increased its size by claiming the northern part of Madison County. In 1869, the formation of Boone County took away the eastern part of Carroll County. The county seat was moved to Berryville in 1875. In 1883, Eureka Springs was named as the co-county seat for the western county district. A few other minor border changes were made to the county sometime prior to 1890, when Carroll County achieved it's current boundaries.

With thanks to our previous coordinators: Ronald Goforth, Katy Hestand, and Marie Harvey.