A HUNDRED YEARS AGO
A hundred years is a very long time,
And yet 'tis said they were singing this rhyme
A hundred years ago.
I'd like to know if this story is true,
I've heard the sky was a very bright blue
A hundred years ago.
The west was still a desolate plain,
For naught they knew of a limited train
A hundred years ago.
The birds that fly to get higher and higher
Could not have flown to a telephone wire
A hundred years ago
Darius Green with his flying machine
Would still be here if he'd been a bit keen
A hundred years ago.
They never raced in a gasoline flyer;
The never punctured a bicycle tire
A hundred years ago.
They chased the hours with frolic and fun,
But none had yet made a century run
A hundred years ago.
Let those who will for longevity strive,
But, oh, I'm glad that I wasn't alive
A hundred years ago!
~Albert H. R.
-------*------- Tonight's Events
8 p.m. band concert at City Park
Ozark Theatre-Clara Bow in "Ladies of the Mob."
Palace Theatre-Thomas Meighan in "The Racket"
Palace Theatre-Lois Moran in "Whirlwind of Youth."
Wednesday
Gun shoot at Washington County Gun Club, 1 p.m.
July Fourth-Second day of
Fayetteville Centennial celebration
Centennial Parade, 11 a.m.
Band concert, Barr's Band
City Park 2 p.m.
Centennial Pageant at Trent
Amphitheatre 4 p.m.
Band Concert- Barr's Kid Band at City Park 8 p.m.
Fireworks-City Park 9p.m.
Palace Theatre-Mary Pickford in "Rosita."
Royal Theatre-Cheyenne Bill in "Sheik of Mojave."
Ozark Theatre-Same as for today.
Thursday
Fayetteville Centennial celebration,
Third day.
Unveiling of marker, site of Fayettville Female Seminary, Mt. Street,
by P.T.A. 10 a.m. Address by Prof. J.C. Massie
--Unveiling of marker at Quesenbury-Hill home,

-------*-------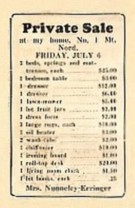 Private Sale
at my home,
No. 1 Mt. Nord,
FRIDAY, JULY 6

3 beds, springs and mat-
tresses, each........$25.00
1 bedroom table....$3.00
1 dresser.............$12.00
1 dresser...............$6.00
1 lawn-mower.......$5.00
1 lot fruit jars.........$3.00
1 dress form..........$2.00
3 large rugs, each.$10.00
1 oil heater.............$3.00
2 wash tubs............$2.00
1 chiffonier...........$10.00
1 ironing board.......$1.00
1 roll-top desk.....$20.00
1 living room clock.$1.50
1 lot books, each........25

Mrs. Nunneley - Erringer
-------*-------
THIS SECTION UNDER
SIX GOVERNMENTS
Territory now Arkansas and Washington County has been under six governments: Indian,
Spanish, French, British-America,United States and Confederate governments.
-------*-------
Duncan street, 11 a.m.
Address by Hon. J.N. Tillman.
Unveiling of marker at old Yell home by United Spanish War Veterans 2 p.m. Address by Rev. J. H. Kelly.
Unveiling of marker at site of Arkansas College, First Christian church 3 p.m.
Address by Rev. N. M. Ragland.
Unveiling of marker at site of Battle of Fayetteville, Cor. Dickson and College 4 p.m. Story of the fight by Capt. E. B. Harrison and "Old
Tige" by Sen. R. J. Wilson.
City Park Contests, Girls 1:30 to 2:30 p.m. Concert by Kid Band 8 p.m.
Leadership School Opens at Mt. Sequoyah.
Rotary Club luncheon at Mountain Inn.
Legion Meeting
Educational Conferences on "Rural School Problems" at U. of A. 2 p.m.
Kappa Delta Pi Banquet and Initiation
Ozark Theatre-Richard Barthelmess in "The Noose."
Palace and Royal theatres-Same as for Wednesday night.

-------*-------
Alexander - David
A. L. Alexander of Rhea and
Miss Iona Bethel David of
Prairie Grove were married
Sunday by W. H. Osborn.
-------*-------
Mrs. B.W. Sedwick and her
sister, Miss Minnie Dunlap,
have returned from a motor
trip to Chicago with Mr. and
Mrs. T.B. Hardin of Little Rock, son-in-law and daughter of Mrs. Sedwick.
They also visited at Little Rock and Memphis, and were gone a month.
-------*-------
Miss Aileen Paynce of
Stillwater, Okla., who has been visiting her grandmother Mrs. Edna Callen, the past week, left for her home today. Miss Paynce was accompanied by her cousin, Miss Maxine Stevens.
-------*-------
Mrs. Paul Mardis of Pitts- burgh, Pennsylvania, arrived here this week to visit her parents, Mr. and Mrs. T. J. Conner, on East Dickson street, and to attend Centen-nial events.
-------*-------
Mrs. Lucile Burkheimer of
LaRidder, Louisana, and
Mrs. C. J. Craig of Texar- kana, have returned to their homes after a week-end visit as guests of Mrs. Tom Hodges.
-------*-------
Mrs. M. S. Elms and children, Millard Jr. and
Bonnie, of Stuttgart, are
located at Country Gardens
for the summer.
-------*-------
Mr. and Mrs. Tom Rosser and Mrs. W. E. Rosser are here from Oklahoma to visit and attend the Centennial.
-------*-------
Mrs. Otto Wantuck will have as her guest this week, Miss Eva Coon of Muskogee.
-------*-------
Mr. and Mrs. Harold Wantuck leave tonight for Tulsa to spend the Fourth
with Mr. and Mrs. George
Russell.
-------*-------
Mr. and Mrs. F. M. Council of Decatur announce the
birth of a daughter Tuesday at City Hospital.
-------*-------
7-GENERATION FAMILY
SOUGHT BY DEMOCRAT
Has Fayetteville a seven-generation family? The Democrat wants to know. It has located several six generation families and seve- ral five generation families and will give the lineage of these in its next issue.
-------*------- PRIZES OF APPLES OF
WORLD GROWN IN
WASHINGTON CO.
Northwest Arkansas, and
Fayetteville apples have
taken prizes at all world fairs
since the establishment of the
fruit industry
-------*-------
CENTENNIAL PROGRAMS
ON SALE BY DRUGGISTS
Programs for the Centennial are on sale at drug stores, and others will go on sale tomorrow afternoon on the pageant grounds, it has been announced.
-------*-------
Centennial relics owned by
Mary E. Hope, descendant
of William McGarrah; and
her husband, H. R. Hope.
The rolling pin in her hand
was tossed at an inquisitive
cow by Elizabeth F. Reed,
Mrs. Hope's great grand-
mother, 100 years ago, and
bears the scar on its handle
from that episode. The low
chair was once a rocker, the
first in the city, and is at its
century mark. The tall chair
is over 60 years old and was
Mrs. Hope's baby chair.
In it is a 100 year old cradle
mould that was owned by
Elizabeth Reed back in
Tennessee at the same time
as the rolling pin. In the hand
of Mr. Hope is the carpen-ters's gauge used 150 year
ago by his great grandfather
on the Tennessee river.
-------*------- Liberty Life Co.
Moves Office Here
C. F. Renner
Headquarters for the
Liberty Life Insurance
Company, $50,000 capital
stock, have been established
at Fayetteville, with central
offices at the Ozark building.
Equipment was moved in
yesterday. Charles F.Renner
is manager, and will be
assisted by his sons Maurice
and Welton. Five other
employes have been brought
here from former head- quarters, which were at Muskogee, Oklahoma.
The Liberty Life Insurance company operates in Arkansas and Oklahoma, with life, health and accident insurance.
-------*-------PAGEANT HEADS ASK
CLOSE COOPERATION
OF EPISODE CHAIRMNN
To make possible a smooth
running drama for the Centennial pageant Wednes- day, episode directors are asked to see that their casts
of characters report on time
and move from the stage promptly tomorrow, accord- ing to announcement today of Miss Jobelle Holcombe, pageant master.
Each episode should appoint a property man to see that properties are ready when needed, Miss Holcombe asked. All property men with properties should meet Miss Cranz on the grounds at 2:30 Wednesday in order to place the properties.
All actors are to be on the
grounds at 3:30, and report to their respective episode directors and stay in position
"There must be no delay
between episodes," Miss
Holcombe stated. "An audi- ence becomes restless after one and one-half hours. Since our pageant at best will last two hours, please remember to move promptly
both on the stage and off.
What seems satisfactory to the actors may drag for the audience.
Remember the audience.
"There must be no delay between episodes. As soon as each preceding group enters, the next following group should be in position to enter. Each episode
director and his cast; if poss- ible, should read the comp-lete printed program for an understanding of the story, and each director should keep at hand the outline
of the action.
"Actors enter the grounds at the filling station on the east and also at the gate at the southwest corner of the grounds. Their cars may pass behind the stage but must be parked in the street west of the enclosure.
If necessary for an actor to go from one side to another, he is asked to pass behind the stage."
-------*-------
WEDDING COSTUMES
OF 60's ON DISPLAY
The quaint white wedding dress with its long full skirt, the petticoat, wreath and stockings worn by the bride,
and the blue Union uniform
worn by the groom at the wedding of Miss Mary Stone and Lieut. George Albright over 70 years ago
are on exhibit in a striking Centennial window display at Campbell and Bell's Dry Goods Company.
The ceremony was per- formed in the big parlors of the Stone home on West Center Street.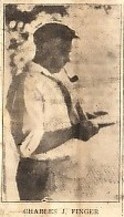 CHARLES J. FINGER Charles J. Finger, internation- ally known writer, is Fayette-
ville's foremost literateur.
Mr. Finger needs no intro- duction to students of the short story or adventure tales. But, for the benefit of the unitiated, it is said, that Mr. Finger for four years straight while writing for the magazines produced "The best short stories of the year" that he won the Newberry prize a year or so ago for the best juvenile book of the year, that Knox College recently conferred upon him the degree of Doctor of Letters. With his interesting family, Mr. Finger lives at Gayeta Lodge where he has composed eight or nine books, all receiving high com-
mendation of critics, and 60 or 70 Little Blue Book series classics. His Life of Livingstone is said to be the best in print. He is now composing a book which his publisher says will be a classic and his masterpiece.
-------*------- THREE GALLEONS
Best Poem of 1928
by ROSA ZAGNONI MARINONI
Three galleons said the purple sea
Beneath a saffron sky.
I do not know what flay they flaunt
Nor where their course may lie.

Three galleons said the rose-gray sea-
Each is a hazy thing.
They hurry on with full blown sails-
Men wonder what they bring?

Three galleons said the purple sea
Beneath a star-shot sky.
I lay my head upon the sand
And let dream ships sail by.

Three galleons pass into the black
And disappear at sea.
I shall not wait upon the beach-
Dream ships don't stop for me.
-------*------- TALES OF SLAVE DAYS
AND PROUD F. F. V. WHITES
ADD TO LOCAL ROMANCE
"Nought's a nought-
Figger's a figger;
All for the white man,
Nothin' for the nigger."
So sang the slaves of early plantation days in Fayetteville, Arkansas, and elsewhere. The fuedal grandeur of early days in this section is something of which present generations have little conception.
For instance: When the earliest members of the Brodie family, ancestors of the Stones,arrived, they came in a carriage with footman and coachman. There was a house boy, a yard man, a kitchen maid, a cook, a house-maid, a nurse-maid, an old mammy, a stable boy, all in addition to the plantation "niggers" who did the field work. The old negroes were obedient, loyal, trust worthy and the average master and
mistress had for them affection second only to members of the white family. But pride in family was high and newcomers were judged by the ancestry they had. If one came from the F.F.V.s all was well. One, to be of the gentry, must trace his lineage back to the Revolution, or at least to the War of 1812.
Several of the old slaves are still residents of Fayetteville, but most of them were too young to remember much of the life of the day. Aunt Adeline Hudgens, was a slave. So was Uncle Sam Young. So also was Henry Bend. But one by one the old-timers are missing. Soon not one will be left.
-------*------- FIRST CENTURY CAKE
BOSTON CO. DISPLAY
Extending its greetings to the city, the Boston Store marked the celebration of the Centennial here with an un- usual window display consisting of a huge white Centenary birthday cake, topped by a
single tall golden candle, electrically lighted, representing Fayetteville's first century of life.
-------*-------
CHAS. ROBERTS FUNERAL
TO BE HELD WEDNESDAY
Funeral services for Charles Rob- erts, veteran mail carrier, who died suddenly at his home yesterday, will
be held Wednesday morning at 9
o'clock at the residence on north
Willow street. Rev. J. M. Asbell
and Rev. N. M. Ragland will be in
charge. Interment will be at Farm-
ington Cemetery.
Pallbearers will all be co-workers
in the post-office. Active-J.C. Nott,
H.D. Wilkinson, Frank Lewis, Tom
Steele, George Rogers and O. L.
Daily. Honorary-R.C. Mayes, C.R.
Gilbreath, J.E. Parker, Jerod Ballard, C. W. Mashburn and Lowell Chaney.
-------*------- EX-JOCKEY PERISHES
IN RACETRACK FIRE
by Associated Press
OMAHA, Neb., July 3-James Mc-
Lan, 48, former jockey and recently odd-jobs man, was burned to death today when two fires followed in rapid succession at the Ak-Sar-Ben racetrack.
-------*------- MRS. GREGSON HONORED
BY NATIONAL D. A. R.
Mrs. W. S. Gregson has just
received word of her appointment
as a member of the D. A. R.
national committee, Revolutionary
department of memorials in
Continental Hall. The letter notify
ing her of this honor came from
Mrs. Grace H. Brosseau, president-general of the Daughters of the American Revolution.
Mrs. Gregson is historian of the
local chapter, Marion Chapter, and
also is chairman of the committee of
historical research and preservation
of records.
-------*------- **************************
* OLD BOOKS FOR NEW *
**************************
Those who would know some-
thing of early Arkansas history
should read the early books of
travel. Among these are all the
books of Pike and Arrington,
and books whose authors cannot
be recalled but titles are:
DeSoto's Expedition, Journeys
of Marquette and LaSalle, French's
Historical Collections, The Jesuit
and Allied Relations, Pickett's
History, Malone's History of the
Chickasaws, Josiah Flynn's
Travels, Washburn's Life Among
the Cherokees, Nuttall's Journals,
Featherstonhaugh's Travels through
the Slave States, Old Files of the
Arkansas Gazette, Pope's Early
Days in Arkansas, J. H. Shinn's
History of Arkansas, History of
Northwest Arkansas (a volume
four inches thick), Hempstead's
Travels, Narrative of Zebulon M.
Pike, Gerstraecker's Books on
Hunting in the Wild West, Diary
of Manor Gains. All these are
fascinating tales and better written
than many of the modern books.
-------*------- RUSH CREWS FINISH
CONCRETE POURING
IN GARAGE BUILDING
All-night work last night under the
glare of overhead electric lights
made possible the completion
today shortly after noon of the
laying of 1250 years of 6-inch
concrete flooring at the Taylor
building on East Mountain street.
Pouring began at 1 p.m. yester-
day and was finished in approx-
imately 24 hours.
B. Kendrick is superintendent
and C.E. Pierce contractor for
the concrete construction, which
required the use of 240 yards of
gravel, 140 yards of sand, and
1,200 sacks of cement. Two
shifts of men were used, 35 men
working to a shift.
The cement will be allowed to set
for three weeks. Brick and tile laying by another crew will be begun within two weeks.
-------*------- HALE BOYS LEAVING
FOR RIVER BOAT SUMMER
Harrison and Arthur Hale, sons of Dr. Harrison Hale of the University of Arkansas, leave Thursday morning on a hitch-hiking trip to St. Louis, where they begin work Saturday for the Streckfus steamship lines. The boys are among a number of University students signed up here last spring for work. They will be on a St. Louis boat which runs in and out of the city every night. The Streckfus company operates a fleet of dance and excursion boats out of St. Louis for one-day trips and for long cruises up the Ohio and down the Mississippi.
-------*------- TO BE SOLOIST JULY 5
AT SAWYER SCHOOL SITE
Mrs. Felix Spencer will be soloist at the unveiling of the marker for the site of Miss Sawyer's school on Mountain street July 5.
Exercises will take place in the
yard of the Hugh Suttle home.
-------*-------