Thomas Arlington Morgan
Submitted by Becky (Morgan) Cheney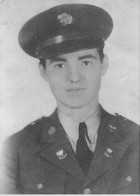 Thomas Arlington Morgan was born on 23 December, 1919 at Herbine in Cleveland County, AR. He was the son of Charles Beckham and Ethel (Herrington) Morgan. US Army Air Forces, 33rd Bomber Squadron, 22nd Bomber Group Sergeant, ID 17013479.
Finding of Death: Wednesday, 12 December 1945.
Memorial: Manila American Cemetery, Fort Bonifacio, Manilia, Phillipines. Also a memorial marker in the Propersity Cemetery in Cleveland County.
Awards: Air Medal, Purple Heart.
Served in the Army Air Forces as a radio operator on a B-26 (Marauder) bomber. His last mission was to targets somewhere near Lae, New Guinea on 4 July, 1942. According to witnesses, after hitting the target, Morgan's plane collided in mid-air with an enemy fighter. His mother was notified on 14 July, 1942 that he had been listed as missing in action near Australia since 6 July, 1942.
---
The following is a letter that my grandmother (Ethel Morgan) received from a friend of Tommy's after his disappearance. It is postmarked Dayton, Tennessee, dated 22 June, 1943...Becky (Morgan) Cheney.
Dear Mrs. Morgan,
When I was overseas, I told you that when I got home, I would write you about Tommie. I've been in the USA for about two weeks now, and have just now been able to get settled and write. I've been away from the outfit for some time now, and have heard nothing about Tommie in a good while.
He and I met on the second or third day we were in the Army at Jefferson Barracks, and we went all the way together. He is one of the finest men I ever knew, and was well liked and respected in the outfit. He had made four missions up to the last of June, and on this date last year, he and I were in Townsville, Australia on leave.
On July 4th, he and his crew took off from Point Moresby to bomb Lae (?) Airfield. They successfully completed their mission, and were jumped by fifteen Jap Zero fighters. In the fight that followed, one of the Jap pilots was killed by a gunner of another ship, and the dead pilot and his plane crashed into Tommie's plane, hitting its left wing. From all eye witness reports, it would seem that three parachutes opened in the air, but no one could be identified. Knowing Tommie as well as I did, and knowing his habits when flying, I would say that he had the best and easiest position in the plane to jump from.
Later, there was a report from natives that three American airmen were captured by the Japanese and were being treated by a Japanese doctor. Of course, no one knows for sure, but it seems reasonable that Tommie and two of his buddies would be the three Americans.
When I left Australia, I had Tommie's diary, about fifty pictures, and a fountain pen and pencil set. The diary and the pictures are being held by customs officials. They will be inspected and returned to me, and then I will send them on to you. He bought the fountain pen and pencil set December 6, 1941 for Miss Pauline Glover, but for some reason failed to send it on to her. I will mail it to you as soon as possible.
At present, I don't know just what my address will be but if you would like to write to me, write me to Dayton, Tennessee, and my mother will send it on to me. Please do not mention my name in connection with what I have written you, and remember, if there is anything I can tell you, or anything I can ever do for you, I will be proud to oblige for the mother of Tommie Morgan.
Sincerely,
Hubert Newell