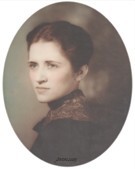 Ruth Lona Shoopman
1909~1994
Ruth Lona Shoopman, age 85, a resident of Paragould Nursing Center passed away Tuesday, October 11,1994 at Arkansas Methodist Hospital.
Mrs. Shoopman was born September 15,1909, in Greene County. A member of the First United Methodist Church, she was a retired registered nurse at Arkansas Methodist Hospital, where she was employed for more than 40 years.
She was preceded in death by her husband, Ralph Fay Shoopman in 1985. Her parents Luther and Emma Bibb/White and one brother Eugene White.
Survivors include five sisters, Selma Highfill, Alvie Textor and Dorothy Smith all of Paragould, Bernice Holland of Buckner, Mo., and Geraldine Bentz of Batesville.
Graveside services will be held at 2:30 p.m. Thursday, October 13th, at Linwood Cemetery in Paragould with Joe Kennedy officiating. Private family visitation will be held.
Mitchell Funeral Home of Paragould is in charge of arrangements. prmassey
photo and obituary courtesy of: PR Massey niece

Anna B. (Morgan) Rippy
Jan 16,1924 Jul 25,1994
The Jonesboro Sun 26/27Jul1994, page 6A
Born in Greene Co. Ark Age 70 Yrs.
Funeral services for Mrs. Anna Rippy, 70, of Paragould who died Monday at the Arkansas Methodist Hospital in Paragould will be this afternoon at 2 at Mitchell Funeral Home in Paragould. Royce Boling will officiate. Burial will follow in Reddick Cemetery.
Born in Greene County, Mrs. Rippy was a homemaker and a member of the Alexander Baptist Church. She was preceeded in death by her first husband, Eli Morgan and her second husband, Albert Paul Rippy, and a son, Kenneth Ray Morgan. Survivors include four sons, Glen E. Morgan, Charles V. Morgan and Bill Morgan all of Paragould, and Ricky D. Morgan of the home; two daughters, Linda S. Morgan and Carletta Thatcher, both of Paragould; three brothers, Charles Twitty, of Arbyrd, MO, Bill Twitty of Marmaduke, and Bob Twitty of Hornersville, MO, one sister, Cathleen Allison of Rector; nine grandchildren and 14 great-grandchildren.
Visitation was held Tuesday evening at the funeral home.

YVONNE NELMS HALE

Funeral Services for Mrs. Yvonne Nelms Hale, 73 of Paragould, who passed away February 5, 1994, will be held at 1:30 p.m. Monday, February 7, 1994 at Mitchell Funeral Home Chapel, Paragould, Arkansas. Reverend Kim Bridges officiating with interment in Pine Log Cemetery, Brookland, Arkansas.

Born October 10, 1920 in Brookland, Arkansas, Mrs. Hale was a homemaker and of the Methodist faith.

Survivors: Mother, Monico Nelms of Paragould. Arkansas. Three sons, Ray, Michael and James. Three daughters, Reba Hale Bridges, Kay Blackford and Pat Helms. Four brothers, Gene, George, Gerald and Jim. Three sisters, Bonnie McCartney, Dorothy Bean and Jane Janes. Ten Grandchildren and nine
Great Grandchildren.
She was preceded in death by her husband Albert Hale.

Beulah Ethel Phillips

Beulah Ethel Phillips, age 85, of Marmaduke, died Wednesday, Feb. 23, 1994, at her home.

Mrs. Phillips was born September 17, 1907, near the Blue Cane Community to the late John and Metilda Batton. She had lived in this area for six years. She previously made her home in Flint, Mich., for 38 years. She was affiliated with the Free Will Baptist in Poplar Bluff, Mo. and was a housewife.

She was preceded in death by a son, James Clark , and two grandsons, James Leroy Clark II and Michael Clark.

Survivors include her husband, Johnnie Phillips of the home; one daughter, Audline Hemmingway of Marmaduke; 12 grandchildren, 35 grate-grandchildren, and one grate-grate-grandchild, and several nieces and nephews.

The funeral was held a 2 p.m. Friday, Feb. 25, at Ramer's Chapel Church, near Marmaduke, with Rev. Rick White officiating. Interment was in Ramer's Chapel Cemetery with Mitchell Funeral Home of Rector in Charge of services.

Pallbearers were Chuck Whitt, Danny Wyatt, Walter Young and Donnie Ellis.
contributed by: Richard McDowell