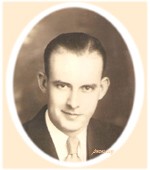 Ralph Fay Shoopman
1906~1985
Ralph Fay Shoopman, age 79, of 111 W. Hunt St. passed away Monday, September 23, 1985 at Arkansas Methodist Hospital. He was a native of Greene County, a member of First United Methodist Church, World War II veteran and former salesman at Clyde Mack and Belk's.
Surviving are his wife Ruth Shoopman; and a niece, Melba Boggs of Paragould.
Graveside service and burial will be at 10:30 a.m. Wednesday at Linwood Cemetery with the Rev. Jim Keith officiating.
Mitchell Funeral Home is in charge of arrangements.
photo and obituary courtesy of: PR Massey, niece