Lois Magnolia Branch Jobe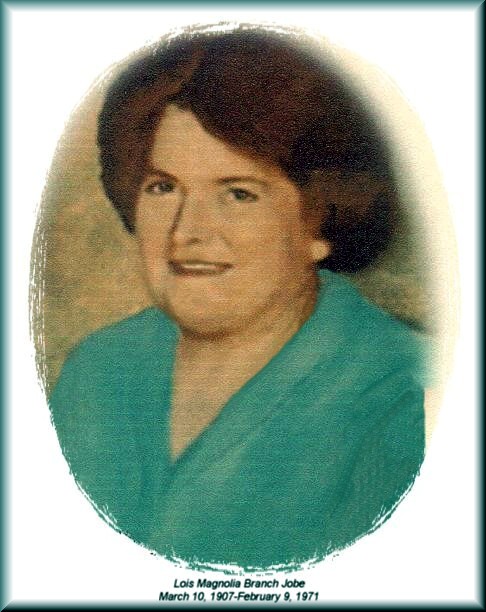 March 1907 ~ February 1971


Tuesday, February 9, 1971, Springfield, MO.

Mrs. Lois Jobe, 63, of 1646 East North, died at 3:30 AM Tuesday in St. John's Hospital.
Mrs. Jobe was a native of Paragould, AR and had moved to Springfield about a year ago.
She is survived by her husband, Earl of the home; two sons, Waylen, Rt. 6, Springfield and Jack of St. Louis; eight daughters, Mrs. James Davis of Winter Haven, FL, Mrs. Wanda Neeley of Marietta, GA, Mrs. Imogene Bunch of St. Charles, MO, Mrs. Venetta Roberds of Cahokia, IL, Mrs. Bobbie Dowell of Lakenheath, England, Mrs. Sondra Phillips of Joplin, MO, Mrs. Judith Schulte and Mrs. Jane Barnett both of St. Ann, MO; 28 grandchildren and two great-grandchildren; a sister, Mrs. Bernice Newberry of Flint, MI; four brothers, Hilary Branch of Cadillac, MI, Jeff Branch of Fort Worth, TX, Grayson of Denham Springs, LA, and Alva Branch of Greenville Springs, LA.
Services will be held at 2:00 p.m. Thursday in Paragould with burial following in Clark's Chapel Cemetery.
Death Certificate: Cerebral vascular accident and arteriosclerotic vascular disease
contributed by: Judith Jobe Raterman, daughter

Francis Lucille Wilkinson Boyd


Francis Lucille Wilkinson Boyd, age 49, passed away Wednesday, March 17, 1971 at Flint Osteopathic Hospital. Funeral services will be held at 1 p.m. Saturday at the Zelley Funeral Home, with Rev. James Lougheed officiating. Burial in Evergreen Cemetery, Grand Blanc, MI.
Mrs. Boyd was born May 1, 1921 in Arkansas to Gilbert M and Myrtle Bowman Wilkinson, and had resided in Flint since 1954. She married William Ernest Boyd in 1947 in Paragould.
She is preceded in death by her mother, her father and stepmother, Finnie Jane (Cash) Wilkinson.
Survivors include her husband, William Ernest Boyd, son, Edward ( Phyllis)Wilkinson of Delaplaine, AR., one daughter, Mrs. Louise (Larry) Nelson, of Flint, MI., step daughters, Mrs. Joyce (Jeff) Dunivan of Monette, AR., Mrs. Lois (Bob) Love of Flint, MI., two brothers, Joseph Ward of Peach Orchard, AR., and James Ward with the United States Army stationed in Vietnam, two sisters, Mrs. Lorraine (Pete) Ricker of MO., and Miss Ola Mae Wilkinson of Flint, nine grandchildren, several nieces and nephews.

Contributed/ with corrections by William Dunavin from the original obituary

March 18th, 1971, Flint Journal, Flint Michigan


Mrs. Gracie Pearl Markin~Dunavin
Mrs. Gracie Pearl Markin~Dunavin, 70, of Monette passed away Saturday, May 29, 1971 at Rodman Hospital in Leachville.
Mrs. Dunavin was born, October 19, 1900, she was a housewife, a member of Childress Assembly of God Church and had lived in Monette for 54 years, moving there from Hardy.

Survivors include her husband, Hardy Dunavin; four sons, C.D. Markin, James Markin, both of Monette, Oshel Markin of Paragould and Neil Markin of Memphis; four daughters, Mrs. Violet Poe of Marmaduke, Mrs. Pansy Keith of Panama City, CA., Mrs. Nettie Fay Bowman of Torrance, CA., and Mrs. Flora Jean Rowland of Monette; four brothers, Alvin Pruitt of Leachville, Virgil Pruett of Benton, Everett Pruitt of St. Louis and Norvell Pruitt of Benton; a sister, Mrs. Elva James of Corning; 17 grandchildren and five great-grandchildren.
Funeral services will be Monday afternoon at 2:30 at the Childress Assembly of God Church with Rev Roy Anderson officiating. Burial will be in Linwood Cemetery in Paragould with Gregg Funeral Home in charge of arrangements.
contributed by: William Dunavin

Mrs. Minnie (Brewer) Ramer
Mrs. Minnie (Brewer) Ramer, born March 19, 1883, was a native of Tennessee.

She was the wife of Robert Lonzo Ramer and they had two daughters, Onnie (Ramer) Smith and Gladys (Ramer) Easley.

On June 28, 1971 Mrs. Minnie Ramer died at her home in Marmaduke at the age of 88.

Funeral services were healed at Ramer's Chapel Church with Rev. Herman Graves and Rev. Chester Penny in charge. Burial was in Ramer's Chapel Cemetery with Irby Funeral Home in charge.

Survivors include Onnie (Ramer) Smith of Marmaduke Arkansas and Gladys (Ramer) Easley of San Antonio Texes. Also four bothers; Neeley Brewer, Lubbock, Texes, Ben Brewer, of Paragould and Arthur and Bill Brewer of Marmaduke; six grandchildren , and ten great-grandchildren.

contributed by: Richard McDowell