ARGenWeb Gold Star County Award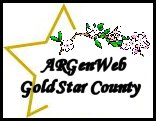 This award can be claimed by any ARGenWeb Project County Coordinator whose county site meets the following criteria. If you believe that your website meets ALL of the requirements, contact me and I will check your site. You will then be notified that you are eligible to add this graphic to your site and I will also place a small
gold star

beside your county name on the county list.

These elements include the minimum requirements for a USGenWeb Project website and additional requirements that make a county site outstanding. The items below marked with an * are USGenWeb Project requirements:
*Website displays one of the four approved USGenWeb Project logos and it is linked to the USGenWeb Project national
webpage.
*Website provides a way for visitors to post queries.
*Website provides at least basic research help and lookups.
*Website displays the CORRECTED ARGenWeb Project logo and it is linked to the main ARGenWeb Project page.
Website has been updated in the last 6 months. To meet this requirement, you will need either a "Last Updated" date on your main page or a "What's New" page.
Website has County Coordinators name and e-mail address on AT LEAST the main page.
Website provides some local information, eg. genealogical or historical society, courthouse (location and hours), etc.
Website must link to at least one of the following: the USGenWeb Archives, the ARGenWeb Archives or the county archives page.
Website has a search engine for visitors - see possible examples - Freefind.